Thursday Before the Long Weekend
Monday, June 24, 2019 - 4:49pm
 I hoist the two stuffed bags of groceries onto the front seat of my SUV.
Closing the passenger door, I turn to walk around the back. I'm startled to see – a couple of feet away–a young man. Navy hoodie, long shiny blue shorts, old, worn runners.  He's looking at me. I don't recognize him. 
Me: Oh.  Hi, hi.    
Him: Do you have any change?
Me:  Yes. Yes I do. 
I know I do; I've been in and out of this store all week, getting ready for family and the long weekend. Reaching into the zipper pocket of my puffer coat and I pull out all change I have. Not that much. I take a couple of steps toward him and put it in his hand. 
Him: Thank you.  
Me: You're welcome. 
I am aware of how pale he is; thin, white legs shivering in the April wind.
Me: Do you know where the free meals are in town? 
Him: Yeah.
Me: Okay.  Friendship Inn?  The Food Bank?
Him:  Yes, I know.
Me:  Oh good.   I just wanted to make sure you knew about the meals.
Him:  Yes I know. I need $10. 
Me:  Right.  
Pause. Wind. Silence. 
Him: Yeah I know. I don't live near those places.
Me:  Right, you bet.  
Him:  I need $10.00
Me (nodding; I can see the truth of this statement):  Yes. 
Him: I live over in the Avalon Apartments. 
Me: Oh, okay.  Yea.
We stand there.  I'm near my car; he's in the neighbouring parking stall.
He rocks back and forth a bit; huddling in the sharp breeze; hands in and out of his hoodie pocket. I keep nodding; unsure; looking into his soft eyes, hands by my side.
Him:  So not near those places.
Me:   Right; you bet. I know where those apartments are. 
Him: Yeah.
Pause. He doesn't move. 
Me:  You bet.
Silence.
Me:  Well, I better keep on my way.  All the best.  
I turn to walk behind my SUV to the driver's door.  He turns to face the rest of the food store parking lot. And just as we pass this:
Thank you, he says, I love you.
---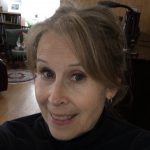 Jan Clarke lives in Saskatoon, Saskatchewan in Canada; enjoying her retirement as auntie, gardener, yogi and Pastor-in- Residence at St. Andrew's Theological College. She also offers spiritual director at the Queen's House Retreat and Renewal Centre in Saskatoon. Before retirement she was the Community and Social Justice Minister for an Urban ministry where others taught her about spiritual companionship "on the street" and "in the moment."  She credits the SDI conferences  (Vancouver, Houston and San Diego) and the SDI  Pilgrimage in Arizona with nourishing and inspiring her in this 15 year ministry.  
Two for the Price of None
Learn. For. Free. Discover and Listen. One signup, two great resources. Free.
Help Us Serve More People
Become an SDI member. Great benefits, discounts, and networking. Learn more...